Put the date in your diary
15 - 17 June 2018
This year's Festival on the Green will be held over the weekend of 15- 17 June 2018
More details coming soon
Check back regularly to see what's being planned for 2018

2018 will be the 12th year of Festival on the Green
It has grown bigger each year and 2018 promises to be the biggest and best yet
With music, entertainment, food and drink there will be something for everybody
Check back to soon to see what's planned
The 12th Festival on the Green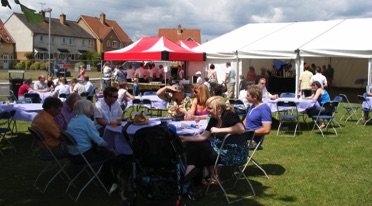 Welcome to Botolph Green Residents' Association
Festival on the Green and more
Botolph Green Residents' Association is a local community group which aims to encourage "getting to know your neighbour" through a variety of activities and events, the highlight of course is the annual Festival on the Green which is firmly now in everyone's diary!
Environmental Projects
We have two environmental projects: the regeneration and maintenance of the local pond on the Green; and the Woodland Walk
Classic Car Show
Classic Cars at Festival on the Green
Festival on the Green will once again be host to a collection of classic cars
Classic Car Owners
If you would like to show your car at Classic Cars at Festival on the Green, get in touch here
A survey in 2001 survey by Philip Precey of the Wildlife Trust showed the pond as drying out and full of crassula, a non-native invasive species. This cattle pond had become unloved, choked and dank. The small copse next to it was a haven for litter and brambles. The Pond Group has transformed the pond to a lovely spot, cleared of the crassula and blanket weed. We've planted a small wildflower meadow and tackled the copse to clear it of dead trees and saplings to open it to the light and encourage healthy growth.
Our little local pond now provides the opportunity for life to thrive. The latest pond dipping day turned up newts, including the great crested variety, frogs and dragon fly larvae. It provided a home to a couple of moorhen, who returned in 2017 to start a family of 7 chicks, living in what is now a virtually rubbish-free environment. We've spotted hedgehogs, that iconic but horribly endangered species and hope that the richer insect environment will encourage a few bats to visit.
The short section of footpath that runs from Oundle Road to the Orton Mere/Peterborough path is well used by cyclists, dog-walkers, ramblers, schoolchildren, and since the opening of the new Co-op, shoppers. Trees, mostly Norwegian maples planted in the early days of Peterborough Development Corporation, had matured and an undergrowth of elder, brambles, elm and wild cherry had self-seeded. By the end of 2015 the tangle of vegetation was neglected, dark and encroached on the footpath. In addition to this, the area had been used as a compost heap and for fly tipping. The overall impression was unattractive.
A group of residents decided to act. On 30th December 2015 a Grand Clear Up was supported by nearly 30 people who pruned, ringed ivy, dragged away dead trees and branches and picked up litter, which included some 1980's bathroom tiles, paint cans and several 8' long pieces of iron!
Several bonfires and industrial bins were needed to remove the rubbish.
Having cleared some invasive plants, the group, now consisting of 12-15 regular enthusiasts, has met several times each year to plant more diverse species that include cornus, guelder rose, hawthorn, hazel, holly, malus and willow. A hawthorn hedge has been planted around an unsightly and neglected, privately- owned area which cannot be touched by either residents or Peterborough City Council, and snowdrops have also been planted. Habitat piles have been built to provide shelter for wildlife and bird and hedgehog boxes are in place.
The project has been supported by several wildlife and conservation groups who have offered advice and guidance. Also by Oundle Road Co-op, who have given a much appreciated donation and continue to sustain our Sunday morning working- group with pastries, and Nene Park Trust, who lend the group tools with which to work.
Do you walk the woods regularly? Have you seen any interesting wildlife? Feedback is welcome, as are volunteers who would like to join us.